Wuppertal – A city with an intriguing story of urban transformation. Suffering heavily under the industrial shifts in Germany towards the end of the 20th century, it has started to emerge as one of Germany's prime examples of how cities can adapt to the challenges of the 21st century. Watch as our patron Uwe Schneidewind, Mayor of Wuppertal, talks about his vision for a climate-neutral city and the role of mayors in reducing carbon emissions.
Preparing cities for challenges of the present and the future
Climate-neutrality, reducing carbon emissions, affordable housing, social mobility. The challenges for cities are multi-faceted and become increasingly complex. Uwe Schneidewind highlights ways in which the city of Wuppertal attempts to tackle the growing climate crisis and how it can pose as a sustainable role model for other cities in the future.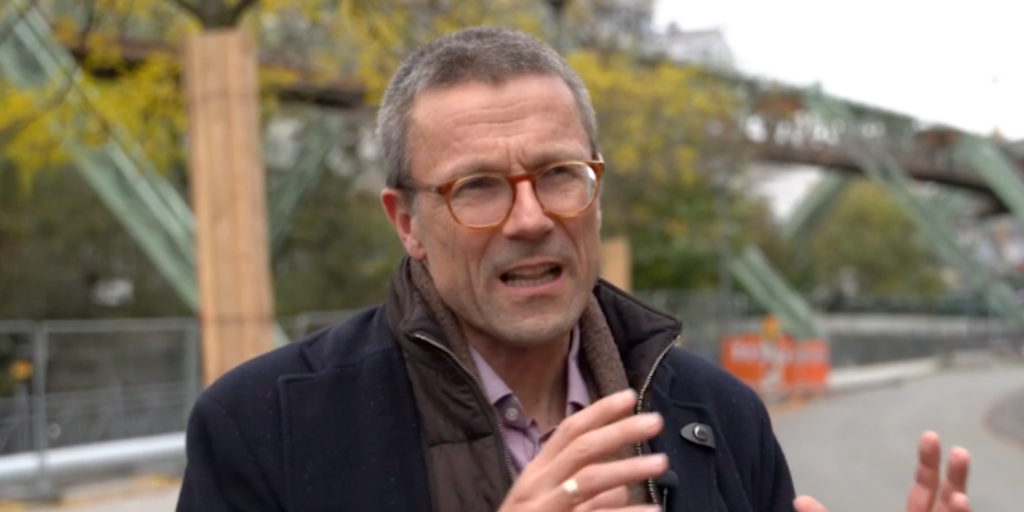 Uwe Schneidewind is Mayor of Wuppertal, a city of 350,000 in Western Germany. Mayor Schneidewind has a background in research and also served as President of the University of Oldenburg. From 2010-2020, he was the President of the Wuppertal Institute for the Environment, Climate, and Energy, a leading international think tank on sustainability research. Uwe Schneidewind is a member of the German Green Party and has been Mayor since 2020. Since 2021 he is also one of our two New Urban Progress Patrons.
Ulrich Hörning has been the Deputy Mayor of Leipzig, a city of almost 600,000, since November 2015. Before that, he worked at the World Bank as well as in the Federal Ministry of Finance in Berlin. He graduated from Harvard and has a Masters degree in Public Administration. The current main topics on his agenda are the future urban development and digitalization of Leipzig as defined in the urban development "Leipzig 2030″. Ulrich Hörning is a member of the German Social Democratic Party.